CANVAS PAGE LAUNCH DAY!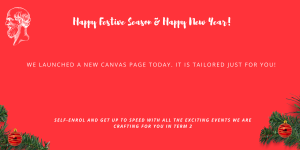 Today is a soft launch day for the canvas page: https://canvas.ubc.ca/courses/92693.
This is the place where you will find all the exciting news, events and opportunities tailored to your requests. If you miss the previous editions of your newsletter, do not worry. You can find them all here, bundled for you.
You will soon receive instructions on how to access the page, so stay tuned!
We wish you all best of luck with exams, Merry Christmas and a Happy New Year!