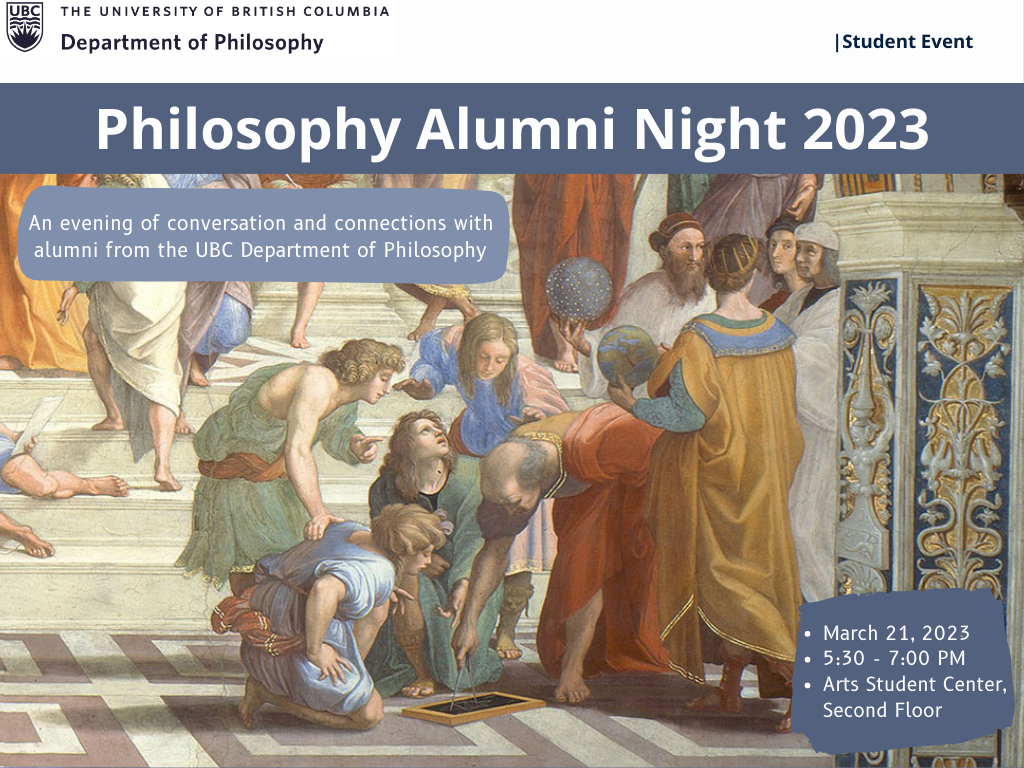 Are you looking for more career clarity or exploring how to translate a Philosophy degree into a career?
Don't miss this networking opportunity to connect with Philosophy alumni and find out how you can launch your career with a Philosophy degree! Come join us for a night of career chats and connections.
At the Philosophy Alumni Night, you will be able to learn from alumni of diverse professional backgrounds, and can ask them questions on everything from finding career opportunities and completing job applications to preparing for interviews and marketing your Philosophy undergrad skills. Alumni can also provide tips on how to navigate the transition from the Philosophy student life to the world of careers.
---
Alumni Panelists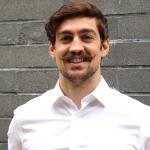 Chris Mabry (he/him), BA'17 Philosophy & Psychology
Policy Analyst/Natural Resources Canada
Chris Mabry completed his BA with a double major in psychology and philosophy in 2017. After 3 years out of school, volunteering with a UBC psych lab, working as a coordinator for a non-profit organization, and travelling, he pursued his Master of Public Policy (MPP). The MPP program opened up opportunities to publish policy papers with policy institutes, notably The Case for Small Nuclear Reactors with CD Howe Institute, and work as a policy analyst for municipal, provincial, and federal governments.
Saralyn Purdie (she/her), BA'14 Philosophy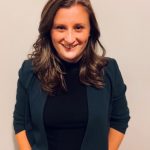 Associate Lawyer, Independent Contractor at Taylor Oballa Murray Leyland LLP
Starting her career with an unpaid internship after her first year at UBC, Saralyn is now an associate lawyer at an established entertainment law firm in Toronto. Between her undergrad in philosophy and a subsequent law degree in the UK, she worked with well-known pop, rock and country artists at one of Canada's biggest independent record labels. Saralyn was called to the BC bar in 2022, and is now on the board of directors for Music BC and represents music clients across the country.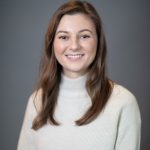 Gabby Korcheva (she/her), BA'14 Philosophy & Political Science, Med'19
Associate Director – Career Services at Immigrant Services Society of BC
Gabby has a Bachelor of Arts in Political Science and Philosophy and a Master of Education in Adult Education from the University of British Columbia. She was also a 2016 RADIUS Fellow at the Simon Fraser University Beedie School of Business and completed the Social Impact Business-Start Up Incubator program at Spring Activator in 2015. Gabby co-founded Binners' Project, a local Downtown Eastside social enterprise of waste-pickers and is currently Associate Director at Immigrant Services Society of BC.
Kenan Jallad (he/him), BA'12 Philosophy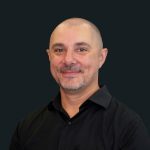 Habanero Consulting / Senior UX Researcher (Consultant)
Kenan is a Senior UX Researcher with an inspired understanding of qualitative and quantitative methodologies applied to product and service design. Kenan leverages this theoretical and practical knowledge to thoughtfully craft holistic, human-centred experiences that measurably drive both user and business outcomes.
Sarah Charrouf (she/her), BA'11 Philosophy
Content Manager, Brainrider
Sarah is a graduate of the University of British Columbia, Philosophy. Currently, she works as a Content Manager and Copywriter in the marketing industry, writing for clients such as Meta, Lyft, and Purolator. Outside of work, you can find her reading, spending time with loved ones, or running on the seawall.
---
The evening will begin with a moderated panel discussion with Philosophy faculty and alumni, followed by a Q&A session for the audience. The evening will conclude with a networking session where students are invited to get pizza and mingle with our Philosophy community.
It's never too early to start thinking about life after graduation. Come grab a slice of pizza and ask any questions you may have about a career with your Philosophy education. Current students and those who are interested in a Philosophy major or minor are all welcome to attend!
Please RSVP by March 20 at noon. Student walk-ins will be welcomed the day of.