Dear students,
We are thrilled to let you know that today we are hosting the in-person career night event where you will have the chance to connect, ask and hear some tips from our UBC philosophy alumni. We are lucky to have a great panel tonight, so this is your chance to come and start building your network.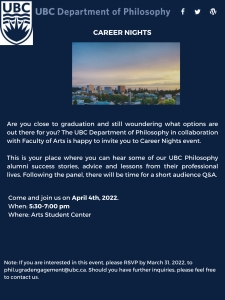 We will have a mix and mingle after the event and with some pizza and snacks.
If you did not have the chance to register yet, do not worry! Come to Arts Student Center ( 1860 E Mall) on the second floor and we can register you on-site. The event will take place today, from 5:30 pm-7:00 pm.
We are looking forward to welcoming you!