We are thrilled to let you know that the Department of Philosophy in collaboration with the Faculty of Arts is organizing the Career Nights, on April 4th. This event is intended for our majors, combined majors and honours students.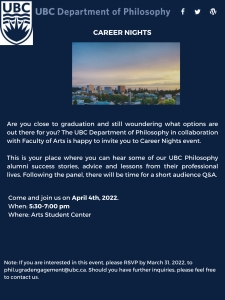 Where: Arts Student Center
Hour: 5:30-7:00 pm
Format: in-person (Please note that this event is going to be hosted in person unless the provincial orders are not changing).
This is the place where you can have your questions answered by some of our UBC Philosophy alumni, you will hear their success stories along with advice & tips from their professional lives. After the event, you will have the opportunity to "mix & mingle" over some snacks and refreshments.
Join us for an interactive and fun evening!
If you are interested in attending the event, please RSVP by March 31st, to phil.ugradengagement@ubc.ca