Dr. David S. Robinson has been appointed as Regent College's inaugural R. Paul Stevens Chair in Marketplace Theology and Leadership, a position that will begin on May 1, 2022.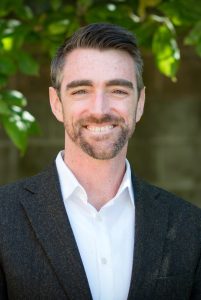 David is currently a SSHRC postdoctoral fellow in the UBC philosophy department, working with Prof. Kimberley Brownlee.
President Jeff Greenman commented on David's appointment to the Stevens Chair. "During his time as a post-doctoral fellow and adjunct professor over the past several years, David has become an integral part of the Regent community. He is a brilliant theological ethicist, a versatile and highly respected teacher, and a tremendous colleague. He has a passion for bringing theology down to the ground level, so to speak, where it interacts with the everyday lives, experiences, and vocations of Christians from all walks of life.
"We undertook a worldwide search for the first-ever Stevens Chair, and sometimes worldwide searches surprise you by leading to someone very close to home. I'm thrilled to be welcoming David into this position, which is so significant to Regent's mission and our unique approach to theological education."
David holds a Ph.D. from the University of Edinburgh. After graduating with his M.Div. in 2008, he returned to Regent in 2018 as Post-Doctoral Fellow in Theology and Science, and since 2019 he has taught at Regent, Vancouver School of Theology, and St. Mark's/Corpus Christi College, all affiliate schools of the University of British Columbia.
David currently serves both Regent College and UBC's Philosophy Department as a Post-Doctoral Research Fellow, a position funded by the Canadian Social Sciences and Humanities Research Council (SSHRC). He is also a Project Co-Leader for "Regent Interface: Engaging the Sciences in Ministry Education," which is funded by the American Association for the Advancement of Science (AAAS).
David is the author of Christ and Revelatory Community in Bonhoeffer's Reception of Hegel (Mohr Siebeck, 2018). He has also contributed articles to leading journals such as Modern Theology, Ecclesiology, and Studies in Christian Ethics.
For more information, please visit the link below:
https://www.regent-college.edu/about-us/news/2022/regent-announces-three-new-faculty-hires#/